CS:GO – Buy Key Bind Generator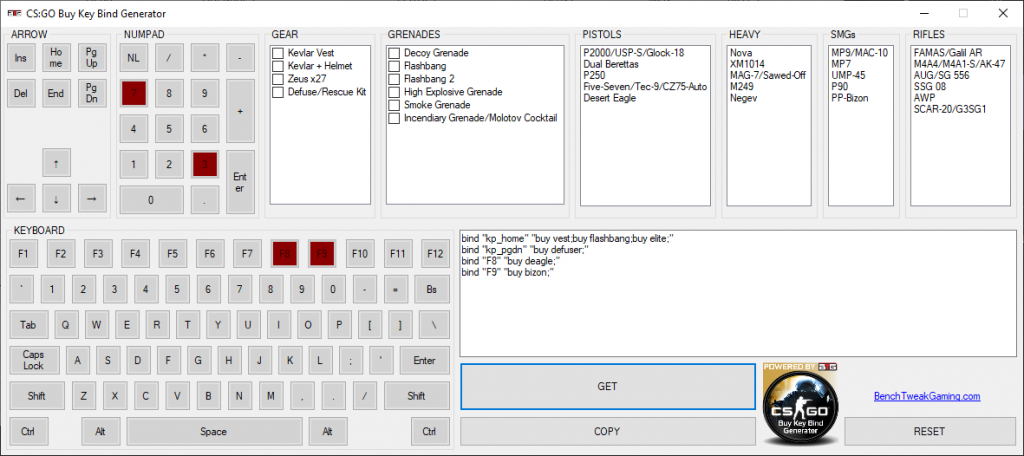 With this FREE software, you can easily create Buy Key Binds for scripting weapon purchases in CS:GO.
README
Easy-to-use customization of you own scripts which allow 1-button purchasing of weapons and equipment in the popular PC game Counter-Strike: Global Offensive. These scripts are often called "buy binds" or "buy scripts". Stay ahead of your competition and always be the first out of spawn!
Watch the following video walkthrough and instructions below to use this software.
VIDEO WALKTHROUGH
INSTRUCTIONS
Follow the video for in-depth walkthrough or follow the instruction below.
►Close the game and create binds using this program.
►Find or create the following file (You can use the 'Notepad' program found in your Windows Operating System. Note the file extension '.cfg'): "C:\Program Files\Steam\steamapps\common\Counter-Strike Global Offensive\csgo\cfg\autoexec.cfg"
►Copy and paste the code from the software into autoexec.cfg (or on a new line or at the end of autoexec.cfg if it already exists) and save the file.
►In Steam library, right-click CSGO game and click properties.
►Click 'Set Launch Options …'.
►Type in '+exec autoexec' and click OK.
►Run the game.
NOTE
WARNING! We are not responsible for any problems you may encounter using our software. Please read the instructions and watch the video carefully before using.