Call of Duty Warzone Tweak Tool V1.0 BETA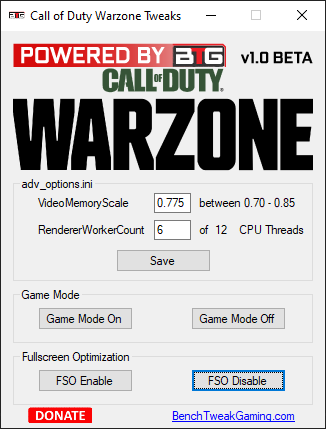 With this FREE software, you can easily change the 'adv_options.ini' file and other settings in the Call of Duty Warzone game.
We created this tool to change the common settings. We based our tool off YouTuber Tech Guides video: "Best Windows Settings to Boost FPS in Warzone: Advanced Options, RAM & Nvidia Control Panel". The tool looks for the 'adv_options.ini' file in you My Documents folder and opens it up for editing. You can disable Game Mode and disable Fullscreen Optimizations and revert them back. Hover your mouse over labels and buttons for information on how to tweak.

VIDEO WALKTHROUGH
Coming soon!
INSTRUCTIONS
►Close the game then run this tool to change the two textbox settings and click the "Save" to commit the changes to the "adv_options.ini" file.
►Click "Game Mode Off" and click "FSO Disable" buttons. The "FSO Enable/Disable" searches for the game executable in all available hard disk. Therefore this function will take some time.
►Close this tool and run the game.
NOTE: Please make a backup of "adv_options.ini" file before using our tool.
NOTE
WARNING! We are not responsible for any problems you may encounter using our software. Please read the instructions and watch the video carefully before using.