Windows 10 Debloat GUI/Debloater is now 'Sophia Script Wrapper'!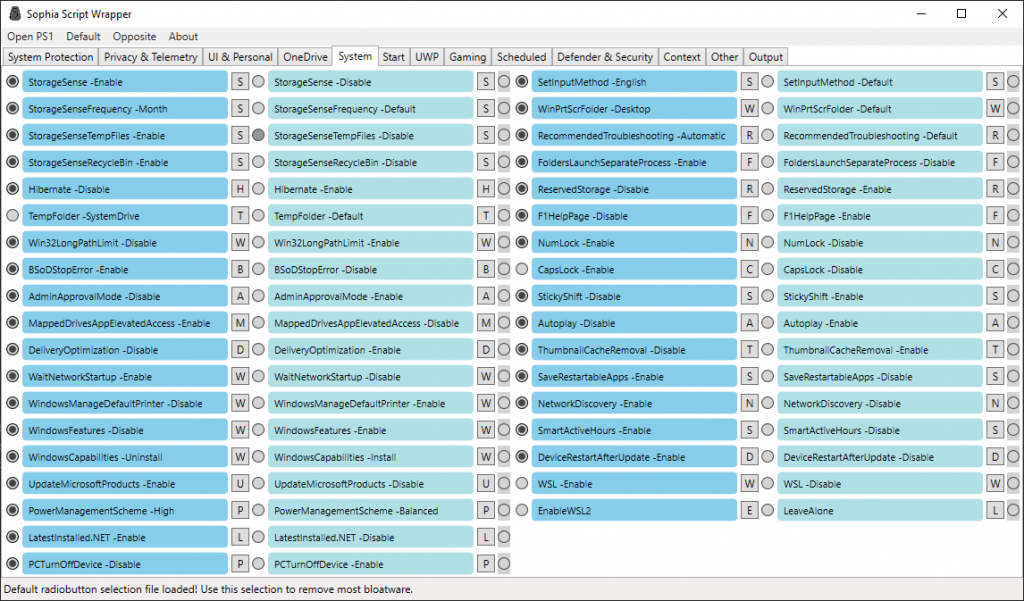 With this FREE software, you can easily create a PowerShell script file using a Graphical User Interface (GUI) that you can run to tweak/'Debloat' Windows 10. You can make Windows 10 more lean. Tailor your Windows for gaming! Works on versions 2004/(20H2/2009) – May and October 2020!
SOURCES, REFERENCES & IMPORTANT NOTICES
We now work with farag2 (Dmitry Nefedov) the creator of Windows 10 'Sophia' Script: https://github.com/farag2/Windows-10-Sophia-Script. Our tool is basically a front-end/GUI wrapper for the source scripts to make things easier to choose the many of options. Check updates to see what we have added. farag2's GitHub now hosts our wrapper. We try to work with farag/Dmitry to update the main script when we find anything that needs work. We are getting more involved with his projects.
NOTICE 1: During the PowerShell script run you will still encounter prompts requiring your attention. So be near your computer to input your responses.
NOTICE 2: This program only edits and reads from TEXT files. Everything is done through text files so you can modify every option and function data.
ABOUT PROGRAM: We are beginner programmers so things look quite 'beginner-level'. The whole idea of this Front End/GUI Wrapper was to build a 'radiobutton form builder' to create options from reading simple text files so anyone could add their own options to the program themselves via adding to or removing from text files. This way we don't have to come back and add new options. Therefore the program is end-user maintainable, fixable and shareable. Also, by creating a PowerShell script, it is now portable and shareable without the GUI wrapper. We are trying to improve it. Check Future Updates.
README
This program creates a PowerShell script file that you can run to tweak/'Debloat' Windows 10. Please choose to create a restore point in 'System Protection' tab so you can safely use this tool.
The options are arranged in different tabs and there is a Default preset in the Options menu so you can debloat a set of options. You can choose the Default preset first and then add your own choices. Create your own "Sophia.ps1" file to share and to read with the wrapper. There is also a 'Opposite' menu choice to select the alternate radiobutton choices. This is good to revert the changes into a script to run. There are ToolTips balloon message popups for detailed info for each radiobutton. There is also a square button with each radiobutton for you to go launch a text window and read or edit the function in the PowerShell 'Sophia.psm1' file module.
Future Updates / Upcoming Developments
We will continue to update the program to work with future scripts.
Update v1.1 for Sophia Script Wrapper
Wrapper can read from PS1 (PowerShell script file "Sophia.ps1"). You can edit the Sophia.ps1 manually and the wrapper can read it. TXT file radiobutton preset creation and reading removed. Different PowerShell script region naming scheme.
Update v1.6 (Renamed to Sophia Script Wrapper V1.0)
Updated for farag2 Sophia Script v5.3.1 (Dec 22, 2020). PowerShell 7.1. Program is now in WPF and C#. The interface is now scalable. Radiobutton width changeable.
Update v1.5
Added UI changes. Added small button beside each option to launch its corresponding function script text in new text window to read or edit.

Update v1.4
Updated for farag2 Sophia Script v5.3 (Dec 14, 2020). When we see a further future update, we add it to the ZIP. We try to update as soon as we can so the file is always kept up-to-date.
Update v1.3
Updated for farag2 Sophia Script v5.2 (Nov 11, 2020).
Update v1.2
For more information about a option, place your mouse cursor over the radiobutton for a ToolTip. A ToolTip is a balloon message popup that shows when you rest your mouse cursor over a radiobutton. ToolTip in English.

Update v1.1
You can directly run the PowerShell script from the program after creating your script.
Run Directly
Click the 'Run Powershell' button after you fill in the radiobutton choices and click the 'Output PowerShell' button. The "Run PowerShell" button creates a PowerShell script called 'Sophia.ps1' in the same directory (overwrites existing 'Sophia.ps1') and runs it.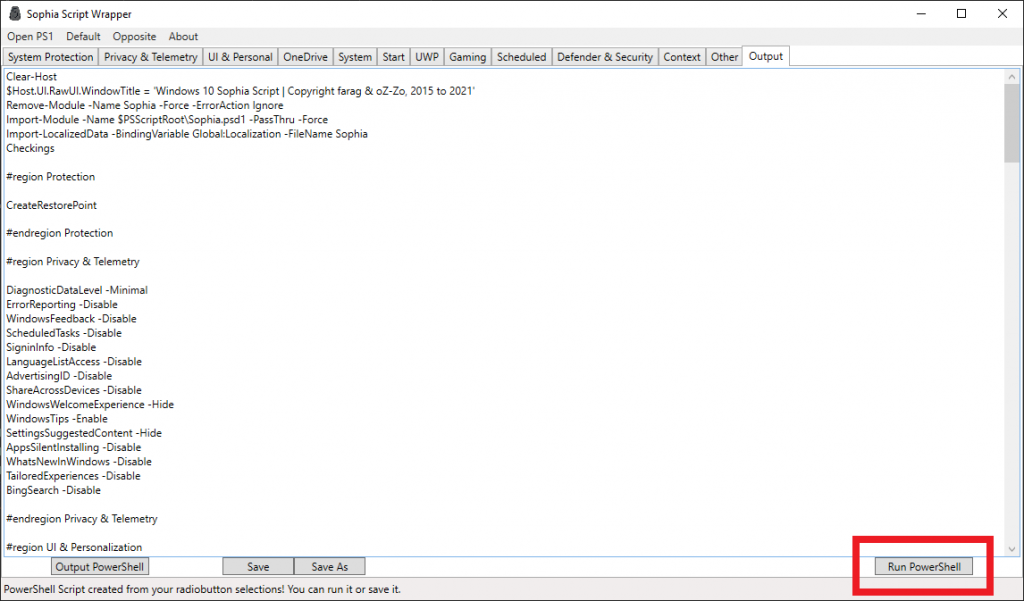 Manually Run
Save the PowerShell script as 'Sophia.ps1' with the other files (see heading FILES below) and run it using the following commands.
Launch PowerShell (Run as administrator) and navigate to where your script is.
Set-ExecutionPolicy -ExecutionPolicy Bypass -Scope Process -Force
./Sophia.ps1
Files
There needs to be 5 files for this program to run properly.
►Sophia Script Wrapper.exe : The GUI program.
►data.txt : contains the options (function names) to select from (usually only 2 options that something is Enable or Disable or 'LeaveAlone'). Notice the sections '#region Xxx … ' and how a semi colon separate the function commands. The last command option in each section does not have a semi colon. Add or substract from the set.
►default.txt : contains Default preset. Click this preset from Option menu in program.
►tooltip.txt : Contains ToolTips for each radiobutton option. In English.
►README.txt : Documentation. Information found here in this post.
Download these above files into the main directory containing the Sophia scripts with the ones listed below.
For the file 'Sophia.ps1', you should make a copy/backup of it as the wrapper overwrites this file.
►Sophia.ps1 : farag2 Original Windows PowerShell Script. Make a copy of this file for backup.
►Sophia.psd1 : farag2 Windows PowerShell Data File.
►Sophia.psm1 : farag2 Windows PowerShell Script Module.
The folders are localized language files for prompts during the PowerShell execution each with a PowerShell Data File 'Sophia.psd1'.
►cn-CN
►de-DE
►en-US
►fr-FR
►it-IT
►ru-RU
►tr-TR
►uk-UA
VIDEO WALKTHROUGH
COMPARISON
ALTERNATIVES
We have an alternative on our second site FreeTimeTech.com. It has an 'EZ Debloater' menu page with buttons to quickly debloat and different options including 3rd Party installation of Adobe Reader, Java, Brave, MPCHC, VLC Player, etc., O&O ShutUp10, setting default apps associations and fine control of removing other 45+ Windows apps. Link: https://freetimetech.com/windows-10-clean-up-debloat-tool-by-ftt/
We also have Optimize-Offline Front End. Optimize-Offline is a Windows Image optimization module for Windows 10. Our tool allows to easily change Optimize-Offline JSON configuration setting file using a GUI and Run O-O. Link: https://benchtweakgaming.com/2020/11/01/optimize-offline-gui-tool-front-end/
NOTE
WARNING! We are not responsible for any problems you may encounter using our software. Please read the instructions and watch the video carefully before using.